Giving You Your Time Back!
Let QURNEX Help Handle and Fulfil ALL Your Jumia & Konga Orders
We can take care of all the work with setting up your stores, storing your products, fulfilling your orders, and handling returns. Giving you YOUR time back to focus on other aspects of your business.
Already selling on Jumia or Konga?
Qurnex helps eCommerce businesses grow by taking care of all their order fulfilment needs. With Qurnex, the idea is simple; we help set up your Jumia/Konga store (if you don't already have), store your products in our secure fulfilment center, when a customer places an order, we pick the item, professionally package it, and fulfil the order to Jumia/Konga drop off centers, and also handle all orders returns for you. While you focus on other important things that are profitable to you and your business.
The Right Partner For You!
Save time and lets take your business to the next level
Qurnex takes care of all your online order fulfilment needs, fast, reliable, and affordable. Saving you the headaches and worries, while helping to scale your business.
We Provide Hassle-free, & Fast fulfilment
By working with Qurnex, merchants on Jumia and Konga can outsource the responsibility of product listings, inventory management, and order fulfilment requirements. The result? Faster shipping for their customers, and save them the time to focus on running their business.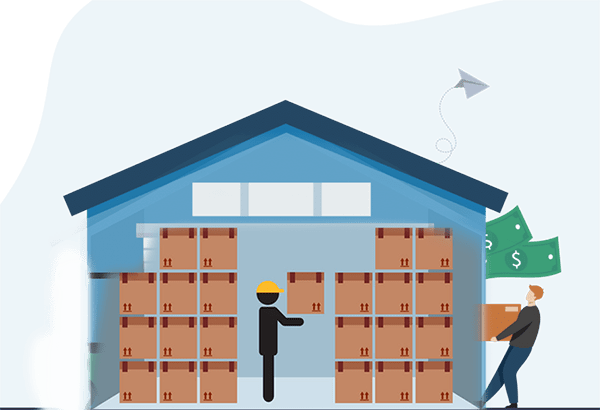 Try Qurnex today with 100% risk-free. Get free storage on your first month. Free removals and free return processing, forever.
Monitor Everything From Your Fulfilment Dashboard
With our web-based software, you can easily monitor your business at every stage. You can manage and edit your stock in real-time, monitor sales, manage inventory. Access our built-in automatic generated reports, invoice and analytics, get 24/7 support and insights. Our web system brings all your fulfilment operations in one easy to navigate platform.
Easiest Way To Sell on Jumia and Konga
Selling on Jumia and/or Konga can be challenging; just like every other businesses. But with Qurnex, our goal is to make selling stress-free and easy; by taking care of all your orders for you, adhering and ensuring that you meet all Jumia and Konga's strict requirements and guidelines. So you can have the peace of mind and also have a successful business.
You Sell.
We Fulfill.
You Grow.
We'll help grow your Jumia/Konga business. Help you sell smatter and faster than 85% of people by outsourcing all operations to us, and fulfilment processes with us. Qurnex makes it easy for anyone to sell and grow their Jumia and/or Konga eCommerce businesses from ANYWHERE in the world.
Why Sell on Jumia or Konga?
Jumia is said to have had OVER 1 billion visits to their website, resulting in over 28 million orders from 7+ million active consumers across Africa. Konga also is inviting new sellers to access over 50 million buyers on its platform.
A great opportunity to showcase your products in front of millions of devoted Jumia and Konga customers who search and shop every day.
Leave the shipping to Jumia/Konga. Also, leave the fulfilment, returns and store management to us with Qurnex Fulfillment.
A great way to make extra money and expand your earning potential without climbing the corporate ladder, and starting your ecom journey.
Qurnex Makes Selling Even More Easy
Giving you access to join thousands of merchants leveraging on these platforms. Helping you get your products selling in under 72 hours. Heck, we can handle everything; from your store creation to products listing, all order fulfilment processes, and returns.
Here you'll see the FIVE simple steps to getting started with Qurnex.
Setup Your Jumia/Konga Store
Don't have one? create a brand new Jumia or Konga selling account or we can help for a very tiny fee
Create your product listings
Next step is to add products to your store and get it approved. We can help for a tiny fee
Integrate Your Sales Channels
Connect your store(s) to our system in just a few clicks. Confused? don't worry; our in-house development team are always ready to help with any requirements you need to get you set up easily
Prepare and Send Your Inventory
Pick all the items you want to sell that have also been approved, and Qurnex will guide you step-by-step on how to ship to us from anywhere you are in the world.
Start Selling, We Handle The Rest
Once we receive your inventory, we will store it in our secure fulfillment center. As orders start flowing in, we'll ensure fast/same day fulfillment to Jumia and/or Konga centers
Jumia and Konga will deliver all fulfilled orders to your customers. They will collect payments and credit your bank account or via your seller wallet – which you can easily withdraw into your preffered bank account.
Flexible and Transparent:
Clear, Affordable Pricing.
We understand the importance of having a price transparency, that's why Qurnex prices won't hide anything from you, no matter the size of your business. Feel free to contact us and talk through your business requirements.
These prices are all-inclusive fulfillment and monthly storage cost which covers receiving, picking and packing 1 unit, order handling, packaging, fulfillment, and handling of returns.
Frequently Asked Questions
Here's a compiled list of the most commonly asked questions for Qurnex. For a one-on-one conversation, with an agent visit our help centre or submit an email request here.
Qurnex Fulfilment is a service that helps sellers outsource the fulfilment process of selling on Jumia and Konga to Qurnex. With this fulfilment option, Qurnex will store, pick, pack, and fulfil the products to Jumia/Konga for you when there's a new order. Qurnex also handles all returns for those orders, and give professional advice to boost your sales.
There are TWO primary types of fees with Qurnex – Inventory Storage fees, and Fulfilment fees.
For Inventory Storage fees, items are charged monthly and are based on the size (Small, Medium, or Large) and the age of the products in storage.
The Fulfilment fees include order handling, picking, and packaging charges which vary based on the size of the item. This is only charged when you make a sale.
A Qurnex merchant is an eCommerce business/individual that sells on eCommerce platforms like Jumia and Konga and outsources the selling processes, and inventory management to Qurnex through the Qurnex Fulfilment program.
The merchant sends products to the Qurnex storage facility for order fulfilment. When a customer places an order for those products, Qurnex picks, packs, and ships the order for them.
Are you wondering how to start selling using Qurnex Fulfilment? It takes five simple steps to get started.
i). Create Your Jumia/Konga Seller Account
ii). Create Your Product Listings
iii). Prepare and Send Your Products to Qurnex
iv). Qurnex Runs Check and Confirm Your Product's Quality
v). Start Selling, We Handle The Rest
Qurnex makes managing your orders easy. Offering swift fulfilment that'll delight your customers with faster delivery of their orders. This potentially does have a great impact on your business, by increasing the chance of getting more eyeballs to your products – which equals to more sales.
Also, it's very important you know that we'll be there to walk you through every step of the way.
Order fulfilment covers all the steps involved from when a sale takes place to delivering that order to the customer. Which involves the process of storing, packing, and fulfilling all orders to the customers, and handling returns.
Some businesses/individuals manages their orders fulfillment themselves, while others use a service like Qurnex Fulfillment so they save time and focus on other things that are of importance to them.
Qurnex Fulfilment focuses on the process of storing your items, packing, and fulfilling all your orders, as well as handling returns for you. While Jumia/Konga delivers all fulfilled orders to your customers, collects the cash and pay directly to you. See What Our Customers Said

"Massa amet, at dolor tellus pellentesque aenean in eget massa tincidunt habitasse volutpat adipiscing sed id sit auctor eu vivamus nulla."

"Ut morbi felis, felis massa quam sit massa, amet, bibendum pulvinar elit in adipiscing amet imperdiet ac felis congue enim, elementum orci."

"Donec in varius facilisis justo, curabitur aliquet sit justo sed sit interdum diam dolor ornare quis a felis adipiscing hendrerit quisque enim."
"Pulvinar dui vitae enim, diam et nulla elit nam leo lacinia et, a, pulvinar gravida enim in blandit mauris vitae volutpat urna, sed justo hendrerit."